Bush League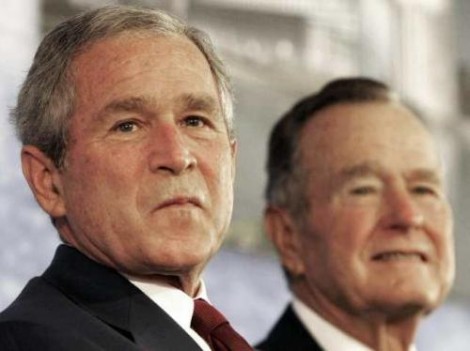 You thought 43 was responsible for all the looting and pillaging?  Not so fast – look what 41 inflicted on my beloved state of New York:
An appointee of President George H. W. Bush who was the first woman and first Hispanic to serve as surgeon general, Dr. [Antonia C.] Novello was praised even by the Clinton administration for her "vigor and talent" and promised to bring new attention to pediatric health.

But the New York State inspector general's office says that she turned her staff at the Health Department into her personal chauffeurs, porters and shopping assistants during her seven-year tenure, and has referred a criminal case, including potential felony charges, to the Albany County district attorney.
Where does the Bush family find these people?
Dr. Novello also ordered a Medicaid fraud investigator in her department to drive her on trips to Macy's and Saks Fifth Avenue in Manhattan. On numerous occasions she had state workers drive her or her mother from the Albany area to Newark Liberty International Airport, roughly 300 miles round trip, to fly to Puerto Rico for personal business. When traveling between state offices in New York City and Albany, she liked to stop at the Woodbury Common Premium Outlets in Central Valley, N.Y., and she is also accused of using state workers to take her on excursions to three malls in the Albany area.

Security guards who acted as her drivers said in interviews with state investigators that she would embarrass and yell at them if they did not do things the way she wanted and expected them to be at her beck and call at all hours.
Saks.  Remind you of anyone?
The report alleges that Dr. Novello required state employees to work more than 2,500 hours of overtime performing personal services for her, costing the state $48,000. One employee told investigators that "Novello's fondness for shopping was so well known that employees in the office would give her sales fliers or coupons to encourage her to leave the office so that they would not have to work late," according to the report.
Easily distracted by bright shiny objects.  Remind you of anyone?
The employees who spoke to investigators at the inspector general's office said that Dr. Novello would call them at all hours on their cellphones and at home to come to her personal service, and that they feared ignoring the demands of the commissioner.

But occasionally they balked.

When Dr. Novello told one security guard to use his own car to drive her and her friends and family on a sightseeing trip to Cooperstown, N.Y., the guard refused and they used a state car, the report said. The same guard was instructed to drive her from Albany to Newark at 1 a.m. on Christmas Day, shortly before the end of the Pataki administration. He did so. But the final straw came when she ordered him to pick her up on her return trip, and by then it was January 2007. Dr. Novello was no longer the health commissioner.

The guard "testified that Novello had urged him to take vacation leave and use his personal vehicle to chauffeur her," the report says, adding that the guard said "it felt good to finally say no to Novello."
This is one more reason we should say "no" to another Bush in the White House.  Never again.
Add a Comment
Please
log in
to post a comment