Quick Action Foils Attempted Coup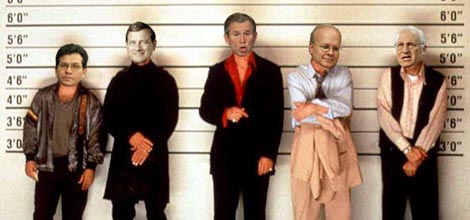 Details are emerging about a massive conspiracy to take over the U.S. government in the event George W. Bush's preferred successor was not elected.
Sources reveal that the plot was set in motion three years ago, when an unknown Federalist Society stooge was nominated as chief justice of the Supreme Court.
The mole's instructions were to remain undercover until the last possible moment, when only he could prevent a democratic coup that would leave the government vulnerable to the will of the people.
And it almost worked.
Millions of Americans watched unaware Tuesday as John Roberts craftily rearranged the words of the Presidential Oath, a mystical incantation that, uttered correctly, would cause the appearance of a gay English sorcerer in the Oval Office later that day.
It was only when the poofy wizard headmaster failed to apparate for his appointment that Barack Obama realized the Inaugural Spell had been miscast.
At that moment, Bush was gathering his forces in Midland, Texas, awaiting the signal for everyone to jump back into Air Force One and rush back to Washington, where Dick Cheney would be waiting with his battering-ram equipped wheelchair. The agreed codewords were to be delivered by Chris Wallace during a national broadcast: "We're wondering here whether or not Barack Obama in fact is the president of the United States."
The plot began to unravel with the intervention of a former operative of the now-disbanded Counter Terrorism Unit, who was in Washington to attend Senate hearings. As seconds ticked away in the White House basement, the operative conducted an enhanced interrogation of Roberts, who revealed how he had been recruited and brainwashed by Cheney, finally to have his mission triggered by the sound of Rick Warren's invocation.
A broken Roberts administered the correct oath at 7:35 p.m. Thursday, just as a SWAT team was surrounding Bush's Texas redoubt.
White House sources stress that like all incompetent Bush schemes, the failed coup never stood a chance: Joe Biden had already been sworn in.
Add a Comment
Please
log in
to post a comment