We Want a Pony, and We Want It Now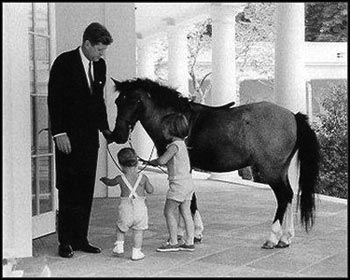 Caroline and John-John got a pony, and Jack got rides from Marilyn and Judith, so what's in it for us? The new, improved White House website, which looks even slicker than the new, improved Pepsi commercials, lists the goodies Preznit Barry will bestow in the years ahead, Cornyn willing.
For one, it mentions Stonewall. By name. That's almost as shocking as the atheist shout-out.
And while some will fuss over the fine print, the civil-rights bullet points are pretty bold:
Support Full Civil Unions and Federal Rights for LGBT Couples
Oppose a Constitutional Ban on Same-Sex Marriage
Repeal Don't Ask-Don't Tell
Expand Adoption Rights [for gay couples]
We're downright fundie about the rights of citizens in our Republic, and we can't find anything to bitch about there.
On the other hand, we can't find anything about dropping the War on Drugs, other than a stated preference for rehabilitation over prisons. Although with two dozen major topics, we're not being exhaustive.
Or maybe we're just enjoying this too much:
President Obama will keep the broken promises made by President Bush to rebuild New Orleans and the Gulf Coast.
In case Shrub missed the message from the speech: Fuck you.
Add a Comment
Please
log in
to post a comment