Outsource This!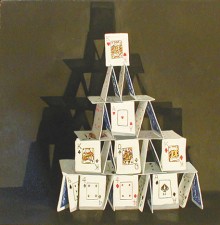 The contract jobs I work on have been outsourced in part, mostly to India.  That's why this warms my cynical black heart:
NEW DELHI — Satyam Computer Services, a leading Indian outsourcing company that serves more than a third of the Fortune 500 companies, significantly inflated its earnings and assets for years, the chairman and co-founder said Wednesday, roiling Indian stock markets and throwing the industry into turmoil.
Sweet.
The chairman, Ramalinga Raju, resigned after revealing that he had systematically falsified accounts as the company expanded from a handful of employees into a back office giant with a work force of 53,000 and operations in 66 countries.

Mr. Raju said Wednesday that 50.4 billion rupees, or $1.04 billion, of the 53.6 billion rupees in cash and bank loans the company listed in assets for its second quarter, which ended in September, were nonexistent.
Sort of like Bernie Madoff's "fund".
The size and scope of the fraud raises questions about regulatory oversight in India and beyond. In addition to India, Satyam has been listed on the New York Stock Exchange since 2001, and on Euronext since January of 2008. The company has been audited by PricewaterhouseCoopers since its listing on the New York Stock exchange.
Lawsuit again PwC in 3, 2, 1 …
The scandal raised questions over accounting standards in India as a whole, as observers asked whether similar problems might lie buried elsewhere. The risk premium for Indian companies will rise in investors' eyes, said Nilesh Jasani, India strategist at Credit Suisse.

R.K. Gupta, managing director at Taurus Asset Management in New Delhi, told Reuters: "If a company's chairman himself says they built fictitious assets, who do you believe here?" The fraud has "put a question mark on the entire corporate governance system in India," he said. [emphasis supplied]
Am I a bad person for enjoying this so much?
And what do you think Stinquers – what's the next industry/fund/company that will be shown to be a house of cards?  And where?  Europe? China? Iceland?
Add a Comment
Please
log in
to post a comment