Live from Wasilla, It's Hillbilly Heroin!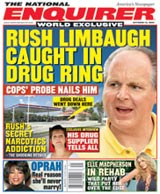 You'll be relieved to know that Sarah Palin does not pal around with meth dealers.
No, not-yet-in-law Sherry Johnston was nailed for distributing Limbaugh-endorsed Oxycontin, first identified in 2001 as "Hillbilly Heroin" for its initial popularity in Appalachia.
Levi's mom won't be arraigned until January 6. Her new grandson is expected to drop sometime Saturday.
Add a Comment
Please
log in
to post a comment