Silent Nights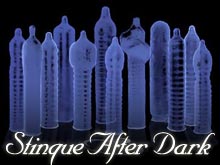 We weren't aware until now of what must be the charming Italian tradition of setting off fireworks during Christmas season. We're not exactly sure what it represents — the sound of being pestorked by an angel? — but it certainly sounds more lively than draining the power grid so God can see your three-stage Santa display.
Still, fireworks are fireworks, and Italian officials must have their hands full keeping fingers from being blown off. So in Naples this year, women are pledging to withhold fireworks from the bedroom if their men indulge themselves on the streets:
"We've tried everything to stop the mayhem caused by fireworks but we've never reached the results we hoped for," [Dr. Vincenzo] Sorrentino said. "We decided to get women involved because they are more convincing and they always achieve their goals."
This of course presumes the women have more fortitude. But considering the other news this week that women are more likely than men to give up sex for the Internet, perhaps we shouldn't put it past them.
Add a Comment
Please
log in
to post a comment