Go Ahead. Make My Holiday.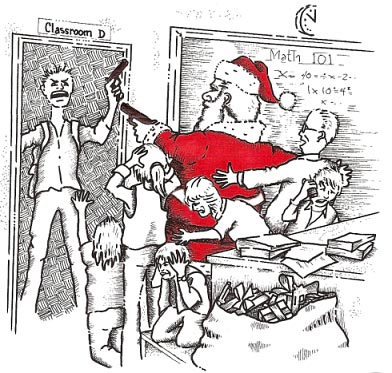 Former NRA magazine editor and "self-defense advocate" John M. Snyder celebrated last year's Omaha mall shooting with this commemorative holiday card depicting "an armed Santa Claus defending school children from a crazed gunman."
See Santa who just in time defends,
Classmates, teachers and their friends,
Gun-right carry laws should extend
Into our classrooms, we contend!
Snyder sends his unique creations each year to naughty boys and girls at the Supreme Court, Congress, and the White House. This year's seasonal tableau depicts bad Barack Obama trying to wrest the spirit of Christmas the Second Amendment away from Santa-C, backed by his posse of gun owners. Barry and his "gun grabber" dawgs better hope Santa wins the tug of war, or St. Nick will pop a cap in his ass.
Gun Rights Expert Shows Santa Opposing Obama on Firearm Rights Christmas Card [NewsReleaseWire]
Add a Comment
Please
log in
to post a comment