Chicago is … My Kind of Town!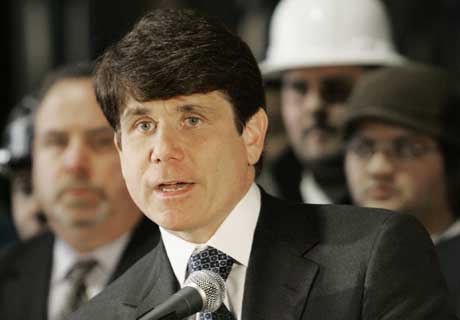 Federal authorities took Illinois Gov. Rod Blagojevich (D) and his chief of staff John Harris into custody this morning on federal corruption charges. Before the arrest, the Chicago Tribune had reported that a "three-year federal corruption investigation of pay-to-play politics in Gov. Rod Blagojevich's administration has expanded to include his impending selection of a new U.S. senator to succeed President-elect Barack Obama." According to a press release from the U.S. Attorney Patrick Fitzgerald's Office:

A 76-page FBI affidavit alleges that Blagojevich was intercepted on court-authorized wiretaps during the last month conspiring to sell or trade Illinois' U.S. Senate seat vacated by President-elect Barack Obama for financial and other personal benefits for himself and his wife. At various times, in exchange for the Senate appointment, Blagojevich discussed obtaining:

– a substantial salary for himself at a either a non-profit foundation or an organization affiliated with labor unions;

– placing his wife on paid corporate boards where he speculated she might garner as much as $150,000 a year;

– promises of campaign funds – including cash up front; and

– a cabinet post or ambassadorship for himself. 
Might as well be blatant about it.
In a conversation with [Chief of Staff John] Harris on November 11, the charges state, Blagojevich said he knew that President-elect Obama wanted Senate Candidate 1 for the open seat but "they're not willing to give me anything except appreciation. [Expletive] them." The complaint does not mention her name, but the description makes clear that Blagojevich is referring to Valerie Jarrett.
I'll bet he tries to hold on … he's no Eliot Spitzer.
Add a Comment
Please
log in
to post a comment