Manna from Heaven
Mirabile Dictu – David Vitter is going to try and hang on to his Senate seat.
Louisiana GOP Senator David Vitter would have seemed like a prime candidate for retirement this cycle. After all, he went through a particularly nasty scandal last Summer when it was revealed that he was on the D.C. Madam's client list, a prostitute came forward and said he'd been a client of hers back in Louisiana, and he confessed to a "very serious sin."

But not so — local Louisiana station KTBS reports that Vitter has decided to run again! And considering the generally Republican nature of Louisiana's voters these days, he probably starts out at the very least as the slight favorite to win, too.
Analysis and hooker/wife comparison after the jump.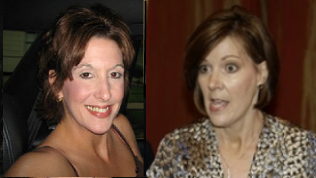 First – the comparison.  Mrs. Vitter is (appropriately) on the right, and the hooker, one Wendy Cortez, is on the left.  Even better – Mrs. Vitter's first name is also Wendy.
But wait – there's more.
A former New Orleans prostitute who says she had an affair with Sen. David Vitter has passed a lie-detector test and will provide details of the four-month relationship at a press conference Tuesday, according to Hustler magazine publisher Larry Flynt.

Vitter, a first-term senator [Republican? Ya think? -eds] elected in 2004, has denied having relationships with New Orleans prostitutes. In a call-in radio show during the Senate campaign, he dismissed as "absolutely and completely untrue" that he had a relationship with [the prostitute,] Wendy Cortez.

In an e-mail, [Vitter spokesman Joel] Digrado said, "Sen. Vitter and his wife have addressed all of this very directly. The senator is focused on important Louisiana priorities like the water resources bill and the Iraq debate."
Like hell Vitter addressed it. He never answered a single fucking question.
I have a good feeling about this.  Vitter can't run on that family values nonsense – he'd be laughed off the stage. He can't run on his performance in the Senate – he's a prime Bush-enabler.  What's he got left?  Sure Louisiana is red, but maybe, just maybe ….  Dems have to put someone really good up.
Add a Comment
Please
log in
to post a comment