Californidiocracy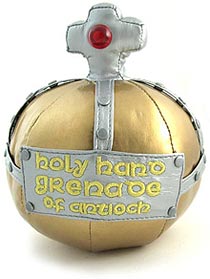 We didn't watch Idiocracy until recently, and well, it's a little broad for our taste. It's hard to do broad comedy in the Age of Irony — broad is vaudeville, and even Mel Brooks' best work was well before 1980.
And yet as metaphor, if not as movie, Idiocracy is inescapable. Take the new Public Policy Institute of California survey of Prop 8 voters: Who was most willing to revoke the rights of their fellow citizens? Was it African Americans? Latinos? Republicans? Guess again:
Among Californians with a high school diploma or less, 69 percent voted for Proposition 8. Among college graduates, 57 percent voted against it.
Of course, Golden State Idiots didn't succeed on their own — not without encouragement from two of the most authoritarian (and marriage-challenged) regimes in America:
San Francisco's Roman Catholic archbishop says he invited leaders of the Mormon Church to get involved in the campaign to pass a gay marriage ban in California this year at the request of his fellow bishops.
It seems the real traditional marriage defended last month was between religion and ignorance. In which case, our metaphor falls short: It's not idiocracy, it's idiotheocracy.
Add a Comment
Please
log in
to post a comment