Zoo Poo Rules Yule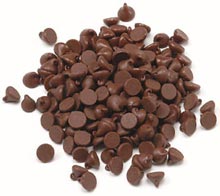 Let's work through this together. Seems there's a zoo in Bloomington, Illinois, that came up with a novel holiday gift: Reindeer shit.
Staffers make decorations out of droppings from the zoo's two reindeer, Ealu and Rika. The droppings are dried, then clear-coated and either painted or rolled in glitter.
They call it "magical reindeer gem ornaments," although if you contemplate Santa sitting behind nine ornament factories at supersonic speed, a better name might be "Shit on a Kringle."
Which was enough to amuse us for awhile, until we got to wondering: What kind of mind does it take to come up with something like this?
Blame it on the zoo director's granny:
It seems that back in the early 1900s, his grandmother would take chocolate drops and sprinkle them around so the children in the family would think that reindeer had really visited.
Which, upon consideration, disturbs us even more than hanging crap in your tree. You do not want to get the kids in the habit of eating shit.
Add a Comment
Please
log in
to post a comment