Till Vote Do Us Part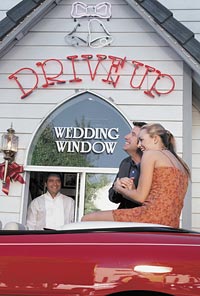 The California Supreme Court may take up Prop 8 for review today, and in so doing the justices face recall if they thwart the will of the Mormon church.
That's how democracy works, of course. If you don't hate with us, you're against us.
But we'll save that fun for later. Because buried near the end of the L.A. Times story reviewing the constitutional issues we find this nugget:
Proposition 8's [Andrew] Pugno said voters could indeed resurrect a ban on mixed-race marriages if the issue had been decided purely on state constitutional grounds.
The reference here is to a 1948 decision that struck down a ban on interracial marriage. Pugno — general counsel for "ProtectMarriage.com" — says California voters could easily reinstate that ban, if only the state court hadn't reached for federal justifications.
In other words: All California marriages are subject to the whim of the electorate, unless the Feds butt in.
Protect marriage? Hell, California just voted to undermine it.
Add a Comment
Please
log in
to post a comment