Oh Please Oh Please Oh Please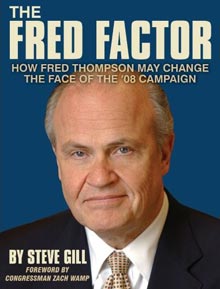 The Republicans need a new party chairman come January, and Townhall's Matt Lewis has just the candidate.
He's dynamic. He's charming. He's deep. He's—
Fred Thompson?
Oh, yeah. And because GOP rules would require a female co-chairman, you know Matt's choice for runningmate ain't Olympia Snowe.
"With the party in the hands of a high-wattage Thompson-Palin tag team, I'm pretty sure that the two could seize the offensive and leave the new president in the dust," Matt writes. "After four years of Obama's socialist policies, something tells me that the American people are going to be ready for another tea party."
Matt, we've got yer back on this one. Because while you're waiting for your tea party, a Thompson-Palin tag team would guarantee the rest of us one helluva rave.
Add a Comment
Please
log in
to post a comment