Stinque the Inauguration!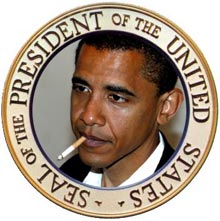 Hey all you Stinquers! Come to D.C. for the Unicorn's Inauguration and see history in action while hanging out with other cynical stinques. Inauguration is Tuesday, January 20, 2009, for those of you who haven't had 1/20/09 as a bumper sticker for the past 5 years. Monday is a holiday (MLK Day, appropriately), so you don't even have to miss as much work.
We're trying to get a rough idea of how many people might be coming so we can figure out venue for post-Inaugural festivities. So read on past the jump for more details on how to get to DC, where to stay, and feel free to share your initial snarky thoughts in the comments. If you are thinking of coming, email your Inaugural Weekend Planning Team at unicorn [at] stinque.com.
By your Stinque Inaugural Weekend Planning Team
(baked, JNOV, MellBell, Nabisco, and SanFranLefty)
Getting to DC:
If you're planning to fly to DC, book it NOW and expect to pay a surcharge for flights in to National, Dulles, or BWI.
To save money, consider flying into other airports on the Eastern Seaboard (Richmond, Philly, NYC-area airports) and taking Amtrak to DC.
Staying in DC:
The most flea-bitten of crack-ho hotels that FlyingChainsaw can recommend are charging a minimum of $400/night. We can provide a list of our favorite hole in the wall hotels and fancier ones, but advise that they may already be sold out.
If you have any friend or family member in DC, hit them up now to reserve their couch or spare bedroom.
If you don't know people in DC, or you're interested in sharing a hotel room with fellow visitors, email us and we can try to match up people. We may also be able to use some of our DC connections to find sofas or floors for you and yours. Serious inquiries only!
There is a free-market springing up on Craigslist for home swaps or for room rentals in private homes. As always, caveat emptor.
A new website called obamadcbound.com has sprung up to facilitate rentals of private rooms and house trades. We have no idea if it's legit – just saw it mentioned in a news article.
Tickets to the Parade:
Good luck. Contact your member of Congress and Senator. Or do what the locals do, go to the Mall for the swearing in, and then go to your favorite watering hole or friend's house to watch the parade on teevee.
Our Inaugural Drinking Jam/Ball/Party:
It's hard for the planning committee to plan anything without having a rough idea of numbers. We could try to actually reserve a room at a dive bar if we know there will be a critical mass.
RSVPs:
In order to gauge interest and attendance, please do the following:
If you want to come to DC, or are thinking about coming to DC for the inauguration, send an email to unicorn [at] stinque.com with the subject line: 1/20/09
In the body of the email, cut and paste the following questions with your answers:
• Are You In or Out?
__ I am SOOO coming to the Inauguration (if marked, go to Housing)
__ I really want to come but I'm worried about
__ how to get to DC (if marked, see above "Getting to DC")
__ where the hell to stay (if marked, go to Housing)
__ If I had a sugar daddy or sugar mommy I'd be there
__ I can't afford airfare from where I live
__ I have a job without vacation time
__ Bitches, I have a life and family and jobs and live miles away and I can't come to DC
• Housing
__ I have a place to stay.
__ I have possible leads on a place to stay.
__ I don't want to sleep under a bridge. Help me!
__ I am willing to share a hotel room with someone else.
__ I need my own bed, though.
__ I will sleep on the floor in a hotel room if that makes it cheaper.
__ I'm willing to sleep on a stranger's couch or spare bedroom.
__ Fuck it, I'll sleep in my car.
• Official Inaugural Events
__ I want to go to a fancy official formal inaugural ball with Stinquers.
__ Fuck that, I'll save the 100 bucks for more booze at a bar with all of you.
• Inaugural Events
__ I want to attend the swearing in with Stinquers.
__ I want to figure out how to get tickets to the Parade.
__ Fuck the parade, I want to go start drinking with Stinquers.
__ Fuck the swearing in and parade, I want to go drinking with Stinquers.
__ Did I mention I want to go drinking with my fellow Stinquers?
Add a Comment
Please
log in
to post a comment