A Star is Porn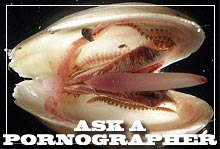 If you really must know, you really must ask. Send your questions to iporn [at] stinque.com
Is there a lot of transition from amateur porn to the major studios? Where does mainstream porn hire from, or find their talent?
Going from amateur porn to major studios is almost unheard of. Major studios spend a lot of money on their films and invest a lot of time, energy and cash cultivating the careers of their actresses. The last thing they'd ever want is to be in the middle of creating a new big name, only to have some Internet dork start posting an out of focus poorly lit video of the actress fucking her boyfriend. It would destroy the mystique they need to build up.
Beyond that, amateur porn more often than not means the person does drugs, which is a big no-no at the start of a porn career. The studios want to be able to cast the actresses as long as possible and drugs age the skin and cause the girls to look worse more quickly and become unreliable. Plus, having drugs on the set is an easy way to tempt fate from police forces who love to raid porn studios.
You have to understand that in this day and age, studios often spend hundreds of thousands and, in some cases, millions of dollars on new titles. They are corporate machines who don't like to take a lot of risks. They spend as much time worrying about OSHA regulations as they do about keeping the dudes hard for their scenes. Of course, once an actress becomes rich and famous if she decides she wants to do some blow, nobody is going to stop her, because then she's a protected asset. But, at the start of a career they simply won't tolerate it.
Mainstream porn companies find their talent the same way mainstream movie studios do — through talent agencies. Women create portfolios and head shots and such and audition for agency representation — which is very hard to secure. Usually, once an actress is picked up by a casting agency they'll try to book her into some high end strip clubs (the type of places that cost $100 and up just to walk in the door). They do this to see how the girls perform in public — because just because a woman thinks she'll have no problems being sexual in front of strangers, doesn't mean she won't freak out when push comes to shove. Plus, it gives the agency a chance to see how she'll relate to potential fans — since if the girl is successful in films she'll have to go to film premiers, calendar signings and other promotional events.
If she does well on that circuit they'll try to get her into galleries — nude still photographs. If those are well received she'll move up to what is called "foreplay scenes" — essentially the girl masturbating on camera either with her fingers or a dildo. The next step up the food chain is as a "guest actress" in an established star's film, usually girl on girl at first, then after a couple of films (if the audience likes her) up to guy on girl and then finally staring in her own feature.
Will chest hair make a comeback in the adult film industry?
It could — and you could help make it happen. I'll get to that later. First, let me tell you why there is so little chest hair in mainstream gay porn. First off, mainstream porn, whether straight or gay, is made to appeal to the widest possible audience. Hence, why you get a lot of blonds with big boobs in straight porn and young dudes with no chest hair in gay porn. A lot of dudes simply like twinks.
Beyond that, in porn they have to put makeup on the body parts people are mostly likely to be looking at — because the bright lights wash out skin tone. They know that for dudes and babes, the chest is important, so it gets a lot of makeup. The thing is that makeup plus hair doesn't really go together and can look really weird — particularly with a high definition video.
Of course, if hair is your thing, there is plenty of porn made for the bear niche — and not all of it features fat dudes. The downside is that like all niche porn, the lighting and technical quality of bear porn tends to be less than that of mainstream gay porn — simply because there is less money involved.
That said, mainstream porn is constantly evolving to suit whatever the studio considers are the needs and desires of its targeted customers. Best of all the main way they do this is to study Google and see what people have been typing into the search engine lately. Hence why there was all that Sarah Palin porn last month.
So, if you want hairy chested guys in porn all you've go to do is get them to notice a spike in searches for it. A couple times a day go to Google and type in "hairy chest gay porn." Then, get your buddies to do the same. Also, if you have gmail, send emails to yourself reading "hairy chest gay porn." Post this idea on various gay forums and get other dudes to type it into Google. Do this enough times and you'll start seeing chest hair sprouting in all directions.
Add a Comment
Please
log in
to post a comment