Bless You, Paul Broun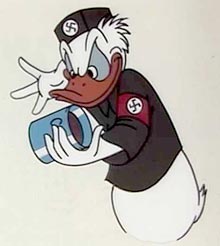 Just when we feared we'd have to start working for our material, Paul Broun, House Republican from Georgia, serves it up on a platter:
"You have to remember that Adolf Hitler was elected in a democratic Germany. I'm not comparing him to Adolf Hitler. What I'm saying is there is the potential of going down that road."
Yes, yes, oh god, yes! It's only been a week, and we didn't realize how empty our life felt. Where are the terrorists of yesterday? Whither the socialists? Where have you gone, Michele Bachmann?
Every word is precious when so few can be found, so let's indulge:
"It may sound a bit crazy and off base, but the thing is, he's the one who proposed this national security force… I'm just trying to bring attention to the fact that we may — may not, I hope not — but we may have a problem with that type of philosophy of radical socialism or Marxism."

"That's exactly what Hitler did in Nazi Germany and it's exactly what the Soviet Union did… When he's proposing to have a national security force that's answering to him, that is as strong as the U.S. military, he's showing me signs of being Marxist."
Our only regret is that our new BFF Paul didn't squeeze in the Mark of the Beast, but the day is young.
So what tripped his wire? Apparently Barry proposed back in July that the U.S. create a "civilian national security force" that would manage postwar reconstruction instead of the military. It was so tame, even Shrub endorsed it.
Add a Comment
Please
log in
to post a comment