That's One Helluva Consignment Store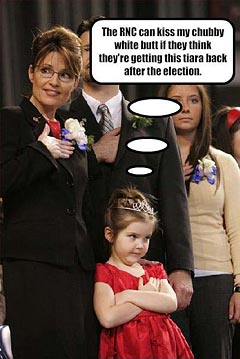 So, about that Talibunny Couture Kerfluffle — it may have been even worse than reported. At least while Psychogeezer's lieutenants have something to say off the record about it.
The instructions for Sarah Palin were to "buy three suits for the convention and hire a stylist". But like the adorable maverick she is, Palin didn't purchase the clothes they wanted her to buy, but went straight to Nieman and Saks and let them know her credit line:
One aide estimated that she spent "tens of thousands" more than the reported $150,000, and that $20,000 to $40,000 went to buy clothes for her husband. Some articles of clothing have apparently been lost. An angry aide characterized the shopping spree as "Wasilla hillbillies looting Neiman Marcus from coast to coast," and said the truth will eventually come out when the Republican Party audits its books.
Fun factoid: The story came out within six hours of McCain's concession speech. We've been expecting the Long Knives, but this amounts to swashbuckling.
Image: Pundit Kitchen [via becominginvisible]
Add a Comment
Please
log in
to post a comment