Weekend Wingnut Roundup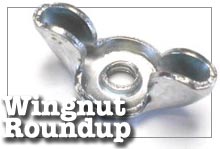 As John McCain wanders around the country trying to find a Reverend Wright that will work, the wingnuts are freaking (and yes, one is verbatim – speculate in comments, and no peeking):
Ace of Spades – Missouri will go for McCain because negroes standing in front of Greek columns make them nervous.
American Thinker – a careful review of selected bits of scripture reveals that not only would Jesus have been for the Bush tax cuts, he would have benefitted from them.
Atlas Shrugs – my knee-jerk racism has even destroyed my relationship with those liberals over at Little Green Footballs … oh well.
You want the wingnuts? You can't handle the wingnuts!
Blogs for Victory – Obama's willingness to investigate Joe the Plumber spells death for the freedoms George W. Bush has bestowed on us.
Blue Crab Boulevard – at this rate, the rich will be defined as those who have a job at McDonald's soon.
Captain's Quarters (Hot Air) – Obama's failure to give a press conference is suspicious, but Sarah Palin's is noble.
Confederate Yankee –  I know McCain will win because I didn't see many McCain/Palin signs in a very blue state.
Hot Air (Allahpundit) – by polling only you, my wingnut friends, I have created an alternative universe where McCain wins the electoral college AND the popular vote.
Hugh Hewitt – as I curl up in a fetal position in anticipation of an Obama victory, I link hopefully to this Jonah Goldberg screed predicting Obama crashes and burns during his first term.
Little Green Footballs – Reverend Wright didn't work, the illegal-immigrant aunt didn't work. but this LA Times thing?  SOLID GOLD BABY!
Macsmind – had the MSM posed the 10 questions I suggest to Obama he would be where he belongs – checking your coat at some libtard club in Manhattan.
Michelle Malkin – the MSM abhor anonymous leaks — unless they're helping to undermine Bush administration anti-terrorism programs or conservative causes and candidates.
NRO (K-Lo) – Sarah Palin will drag McCain across the finish line even as she buries him in the electoral college.
Forgive me – I have to rest.  I promise I will monitor them as election day approaches.  Just … not now.
Add a Comment
Please
log in
to post a comment