San Diego LoveFest '08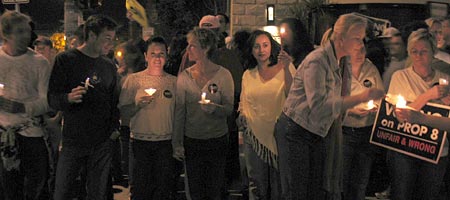 Ped and I went looking for protestors at Qualcomm yesterday, but we couldn't find any. Instead, everyone was getting ready for a hastily organized rally in Hillcrest (San Diego's Castro, sort of) that brought out what the photographer estimates as 7,000 to 10,000 people.
That would match my very rough estimate of 8,000 at the stadium, although the same photographer puts the HateFest at 15,000. HateFest organizers call it 33,000. The stadium seats 71,500. No way in hell was it even a quarter full.
Photographer Rex Wockner's take reflects ours:
But, interestingly, there wasn't really any hate on display. They seemed to just want to "save" marriage. And, as for the homosexuals, they love us, they pray for us, they want us to be set free from sin and demons.
Andrew Sullivan, however, who linked to Wockner's posts, called it "the terrifying mass Christianist rally against marriage equality." Terrifying? Ped may disagree, but it was surprisingly boring. Which might be the best news of all.
Add a Comment
Please
log in
to post a comment