Eats Shit and Leaves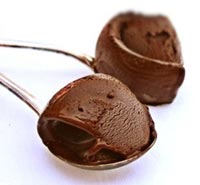 We're violating our self-imposed prohibition on headline cursing because we couldn't forgive ourselves if we let the opportunity slip by. And for our transgression you may blame our Oz correspondent CheapBoy, who inadvertently led us to the Story of the Century.
It begins with a visit by the Whyte family of Sydney to the posh Coogee Bay Hotel, "where every day's a great day at the bay." The Whytes were there to watch Grand Final Day, the culminating event of Australian Rules Football, which Wikipedia informs us involves "a ball in the shape of a prolate spheroid" — an apt description of what was to befall them.
Apparently the Whytes didn't enjoy their day at the bay — they complained to the staff that their experience was less than idyllic.
And here we pause to marvel at the universality of certain rules of human existence. You don't applaud the sexual prowess of somebody's mother. You don't question the beauty of a baby. And you never ever bitch about the service to the people who handle your food.
Vengeance towards the Whytes arrived in the form of a chocolate gelato, offered as a "goodwill gesture." Mrs. Whyte dropped her spoon into the cup, put it to her lips, and—
"We were fed, as a family, shit, at someone's pub," explains Mr. Whyte.
Hotel management disputes the story, although the Whytes sent a sample of the offending dessert to a national laboratory for confirmation. The hotel's head chef has offered to submit to DNA tests. And the Manly-Warringah Sea Eagles defeated the Melbourne Storm, 40-0.
Add a Comment
Please
log in
to post a comment