Not The Best Timing In The World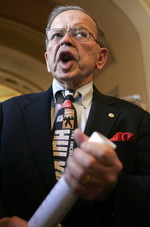 As everybody knows by now: Tubes is going down.  Guilty, across the board. 
Open thread for your schadefruede-induced expressions of AWESOME.
LATE UPDATE: Jesus. You knew this was coming but, per AP: The ATF says it has broken up a plot to assassinate Democratic presidential candidate Barack Obama and shoot or decapitate 102 black people in a Tennessee murder spree. In court records unsealed Monday, agents said they disrupted plans to rob a gun store and target an unnamed but predominantly African-American high school by two neo-Nazi skinheads.
So open-thread on these nutcases as well, if you'd like — though there is probably very little to say about these idiots that could be printed in a family blog like this one.
graphic: The General
Add a Comment
Please
log in
to post a comment