Better Latent Than Never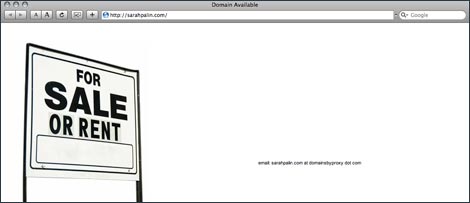 So if you haven't heard the story that's destined to become legend — or if we're lucky, tossed down the Memory Hole — Bill Kristol first met Sarah Palin when the Weekly Standard's Cruise Ship of the Damned docked in Juneau, in June 2007.
We know she made an impression on him. And apparently their meeting made an impression on Jay Griffin, an Anchorage hack who sits on the central committee of Alaska Republicans ("Vigilant • Dedicated • Victorious") when he's not licking envelopes for state Rep. Bob Lynn.
We presume that's the same Jay the Hack of Anchorage who registered a number of domain names on August 24, 2007, including sarahpalin2012.com, sarahpalin12.com, palin2012.com, palinforpresident.com, and sarahpalinforpresident.com — plus, we're told, some 2008 equivalents.
Although Jay hedged his bet, since last January he could be found running a local support group for Mike Huckabee.
One domain Jay missed: sarahpalin.com. That one's been around since April 2004, although it's for sale. Just like the candidate.
Add a Comment
Please
log in
to post a comment