Weekend Wingnut Roundup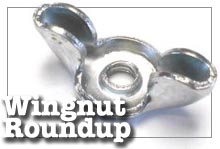 The Psychogeezer is circling the drain – do you suppose the wingnuts have anything to say about that? (as usual, one of these is a direct quote – speculate in comments, no peeking).
Ace of Spades – arise you orcs of the right! – if McCain is to win we must locate and out every fag in the MSM!
Althouse – although I am a nonpartisan conservative wingnut, I find myself strangely drawn … oh take me Barack!  Take me you big liberal stud!
American Thinker (Edward Lifson) – David Brooks and other elite conservatives don't approve of McCain's clever plan to finish off the GOP by his selection of Sarah Palin … how curious.
Ankle Biting Pundits – leave it to the Washington Post to remind everyone right before the election that the CIA likes to waterboard Pakistani cabdrivers.
Atlas Shrugs – Obama sent some Samoan to Indonesia to destroy records that I am confident will show Obama is a terrorist Muslim Islamofascistcommunityorganizerlibtard and was born in Indonesia and this will hand the election to McCain and then we can destroy Iran and Israel will be safe and … no, I did not go off my meds again.
Step into my chamber of horrors.
Blue Crab Boulevard – shocked! shocked I am that, after the GOP lost two wars, destroyed the world's economy, slaughtered hundreds of thousands, and shitcanned the Constitution, a New Yorker might whack McCain supporters with their signs.
Captain's Quarters (Hot Air) – I will ignore the fact that I, along with the rest of you, now own significant chunks of AIG and several major banks, even as I state that the concept of private property remains the bedrock … the Soviet Union?  No, can't say as I've heard of it.
Confederate Yankee – the wingnuts over at The Corner say Obama's plan to cut taxes for 95% of us is, if you look closely, a cleverly-disguised appropriation of the very Bush tax cuts Obama voted against – who am I to argue?
Debbie Schlussel – if McCain is going to save his campaign he's got to stop buying Sarah Palin's clothes.
Flopping Aces – Michelle Obama ordered Iranian caviar at the Waldorf, and that tells me everything I need to know.
HotAir (Allahpundit) – Barack Obama will lose not because he's black but because show ponys never do well with the sort of Middle American voters that exist only in my head.
IMAO – now the next murdering rapist pedophile you run into is going to be high on drugs thanks to your money, and if you shoot him with your gun you'll get in big trouble for killing one of Obama's best friends.
Instapundit – years ago Barack Obama may have taken some speaking fees that violated state senate rules – this could be the game changer we need people!
Little Green Footballs – lookee here!  Obama worked in the same office building as Bill Ayers for THREE YEARS!  Obviously this disqualifies him.
Macsmind – and I found a favorable book review Obama wrote for Ayers!  This changes fucking everything!
Michelle Malkin (see-dubya) – and the Ayers book says that Obama lives in the same neighborhood as Louis Fucking Farrakhan – just wait until Drudge gets hold of this!
NRO (Jonah Goldberg) – as usual I have nothing useful to add, so I'll just link to one of my columns elsewhere and compare the current financial crisis to an episode of Little House on the Prairie.
NRO (K-Lo) – as usual I have nothing useful to add, but I'd like to point out that Sarah Palin doesn't need Greek columns to look presidential.
NRO (Ramesh Ponnuru) – as usual I have nothing useful to add, so I'll just rearrange a few deck chairs on the HMS John McCain.
Patterico's Pontifications – If John McCain loses it's not his fault, rather he should lay the blame where it belongs – at the feet of some guy called McCain-Feingold.
Sister Toldjah – as president, Barack Obama will shut down Fox News, the only source of truth we have!
If I go over to Townhall now, I'll go insane.  Next week, I promise.  I have to go take a long hot shower.
Add a Comment
Please
log in
to post a comment