Fishtray Has Seen It All Before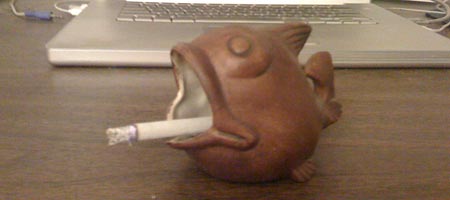 We were desperate. Cat Stick wasn't talking, and Yoda Pez was exhausted after channeling the Supreme Court. ("Ohio, you must deny," we heard him muttering.) But the latest campaign developments had left us anxious for advice, and we needed someone to consult with.
And then we remembered Fishtray.
Fishtray is an old pol with whom we've had our disagreements over the years. As a young idealist he managed Flipper's first campaign ("Live in a world full of wonder!"), but in later years he hit a low behind the scenes of the ugly Shamu-Willy race. ("We haven't seen this much chum since Jaws," sneered the Times.)
But Fishtray knew where the scales were scraped. "I can tell you more about smoke-filled rooms than any nose-breather," he liked to say. "We were baiting opponents long before you came on the scene."
So we called. It had been awhile, but Fishtray recognized our voice immediately. "What, no sweets from the Jolly Green Elf?" he asked. (Long story.) "Fine," he said, "whaddaya want?"
We explained the situation: McCain had called ACORN a threat to the "fabric of democracy" Wednesday night, and Fox News was all over the story.
"So?"
Well, we said, we were worried that McCain was setting the stage to void the election.
Fishtray laughed. Although when Fishtray laughs, it sounds like bubbles. It's something you get used to.
"You're worried about that?" he asked. "I've seen squid with more integrity."
You don't understand, we said. They're trying to undermine Obama's legitimacy.
"You mean they've given up looking for his birth certificate?" said Fishtray. "Look, son, remember '92? Perot split the idiot vote, and Clinton won with a popular plurality. All you heard for the next couple of years was that he didn't have a 'mandate.'"
No, but plenty of women dates, we said. We didn't hear bubbles. Fishtray never appreciated our sense of humor.
"You don't get it," he said. "What happened in 2000? Bush lost the popular vote. Suddenly mandates were off the table. Now it was all about the Constitution."
Well, it had been a long month, we said.
"Idiot!" he shouted. "Don't you see? They make it up. Every time. It doesn't matter what they say. Call them on it, and they'll just say something else. You might as well pry barnacles, for all the good it does you. They'll never accept a loss."
And then Fishtray hung up, the way he always does when we're too slow to see his point. But a moment later, we received a text message: "Tell the Elf he owes me a strawberry mint."
Add a Comment
Please
log in
to post a comment