We're Sticking with Jello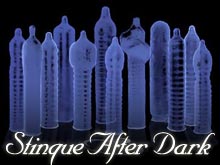 With names like "Willy Spread" and "Nipple Spread," sex condiments have to be good. They even come with a silver spreading knife, although you're warned to warm up the knife before using.
"Cold steel can have a shrinking effect," you understand. You don't want your, um, soufflé collapsing before it's served.
But now comes word of even worse hazards: the food scare in China has spread to naughty toppings.
The UK Food Standards Agency is warning that sex sweeteners contain poisonous melamine, which unscrupulous Chinese producers have used to dilute milk. "This is a first," said an FSA spokesperson. "We've never had to put out an alert before on 'willy spread' – chocolate-flavoured or otherwise."
Cheek Spread appears not to be affected. Then again, we're too frightened to see whether it even exists.
Add a Comment
Please
log in
to post a comment