Here's A Fucking Pipe You Can Fix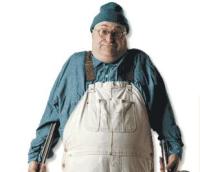 Hello America! My name is Joe. Joe, the plumber!
Now, I know what you're thinking. You're thinking, "hey, Joe, why should I care about you?" Well, wise guy, why should I care about you? Yeah, you! You who pours bacon grease down the drain when you know that it hardens — just like cholesterol in your arteries — and clogs up your pipes. You know this is going to happen, but no. You have to do it, and then you have to call me at 3 in the freaking morning and I have to wake up, come over and make sure that little Suzie can have some oatmeal before going to school.
And I freaking told you to get your cast iron pipes replaced — how they get weak and eventually fail. Told you that three years ago. But did you listen? Noooooo. Of course not. And then I get the call late at night, when I'm having some quality time with Mrs. Plumber, and you are all freaking out and I could give a rat's ass.
You know what, America? FUCK YOU! That's my opinion on the presidential race. FUCK YOU AND THE HORSE YOU RODE IN ON!
And now, if you'll will beg my pardon, I have to talk to some hot shot literary agent in New York. At least he's going to pay me on time, unlike some people I can mention.
Until next time… FUCK YOU!
Warmest regards–
Joe the Plumber
Add a Comment
Please
log in
to post a comment