Tonight, Tonight!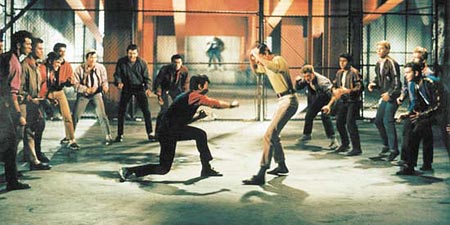 Sure, everybody's thinking Ali-Frazier, or maybe Gibson-Glover, but we fear that like the last two times, what's promised as the Fight of the Century will end up looking like a couple of guys dancing, and without Rita Moreno to distract us.
But if there's gonna be a rumble, tonight's the last chance. And so we open the final 2008 Presidential Debate Liveblog/Open Thread/Chorus Audition, in the hope that somehow, somewhere, we'll find a new way of getting through this without emptying the liquor cabinet.
As usual, you're on your own with drinking games, although we'll toast anyone who manages to tie in a remark with one of the many lyrics we've left untouched. Two toasts if it's Officer Krupke.
When you're a Jet…
8:54. Speaking of content-free campaigns, advertising for California's Prop 11 never mentions what it's about. Apparently it throws census redistricting to a nonpartisan committee, which sounds like a good idea. But are we that stupid that we can't understand the details? Don't answer that.
8:59. Note to sign painter behind Tweety: Obama –cks? Until Tweety budges, it could be sucks or rocks, dude.
9:03. Do they check tie colors with each other beforehand? Three debates, and they haven't clashed once.
9:03. Okay, who wins the Nancy Reagan shout-out prediction? (Apparently it's SFL. Cheers!)
9:06. If this gets slow, we're gonna hunt down some old Bill Cosby routines about Hofstra. Something about not grabbing your crotch if you're hit on the football field during a televised game.
9:08. Mmmm… Wurtzeburgers.
9:10. "Joe the Plumber" was an early David Bowie draft.
9:11. Network assignment desks barking orders to send crews to track down Joe the Plumber, stat.
9:14. National Enquirer has exclusive photos of Joe the Plumber's ass crack.
9:16. Joe the Plumber revealed!
9:23. Is Barry graying around the fringes already, or is that just a close cut? Dude, you're not supposed to age until after you're in office.
9:25. Godfather Bob urges peace between the warring factions.
9:28. Senator McCain, you're not supposed to walk into the knife. John Lewis has a lot more cred than you do.
9:30. McCain doesn't oppose stem-cell funding? Can't wait for the fundies to grab that one.
9:33. Barry: "The American people have become so cynical about our politics." Shout-out! Oh, wait.
9:40. We were about to give Godfather Bob props for staying out of the way, until he just dropped the Veep Question. Now we want to have his baby. We're sure he's got something stored in a freezer somewhere.
9:44. Barry: Spending freeze, John? What about Talibunny's autism programs? Did you even feel your stomach get sliced up?
9:48. Geezer: "You don't tell countries you're going to unilaterally renegotiate agreements with them." The irony makes its own sauce.
9:49. Gee, when did Venezualan oil enter the discussion? Clearly we don't watch Fox News enough. Which is never.
9:52. South Korea needs to outsource more of its animation work to the United States. Fair's fair.
9:53. Note to McCain: Best not to use the phrase "no-brainer." Trust us.
9:59. Paramount just signed Joe the Plumber to a three-picture deal.
10:02. Joe the Plumber, have you seen Swing Vote?
10:06. Macy's has ordered a Joe the Plumber balloon for Thanksgiving.
10:07. Doorbell rings. It's Joe the Plumber! "Did somebody order some pipe?"
10:11. Joe the Plumber's website: "Recent sink job I went to take a look at. A small leak was left unrepaired and caused this damage. Notice there is no wood left under the p-trap, just concrete." Joe the Plumber knows his shit.
10:16. Senator McCain: We'll do everything we can to keep pregnant girls pregnant.
10:26. Charters and vouchers are tonight's strategy and tactics.
10:27. Hamlet endorses MyDebates.org.
10:31. Goodnight, Joe the Plumber, wherever you are.
Add a Comment
Please
log in
to post a comment