Tapping Our Toes … Waiting for a Scandal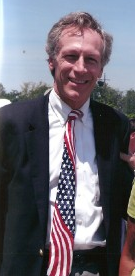 You will readily admit that so far Cocktober has, well, stunque. It's only a glimmer, but:
Congressman Virgil Goode (R-VA) arranged a $150,000 Congressional earmark for a non-profit theater with close personal ties to his press secretary and the producer of a movie featuring gay sex scenes and heavy drug use, PageOneQ has learned.
It gets more interesting:
Who knew that Linwood Duncan, the unassuming press secretary for Rep. Virgil Goode (R-Va.), has been dabbling in acting on the side and turns up with a bit part in the new movie "Eden's Curve"?
Goode's press secretary acted in a naughty movie.  Jump.
In the Congress immediately following Duncan's role in the film, the conservative Republican Congressman moved a $150,000 earmark to the non-profit theater run by Meadors. The funds were set aside for The North Theatre in Danville, Virginia.
…
The gay sexual content, coupled with repeated scenes of drug use, raise the question of how Goode's conservative Danville, VA constituents will react to the news should it become widely known in the district. Also unknown is how anti-earmark conservatives and anti-gay politicians will respond to the disclosure.
Your tax dollars at work!  I know, I know, it's not Bob Allen or Gary Aldridge, but we're only halfway through Cocktober.
Add a Comment
Please
log in
to post a comment