Raging Bollocks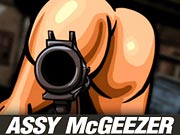 That's not the headline we wanted to use, but cursing isn't welcome with search engines. Or maybe that's just our mother, who, if she's lurking, our brother did it.
Anyway, after Barry called out McCain as a chickenshit (hi, Mom!) for not mentioning Ayers to his face last week, McCain is promising not to pal around this time. As long as Bob brings it up. See, Tom didn't ask about it, that's why McCain didn't say anything. Never mind that he managed to announce a major economic program just seven minutes after the opening bell.
(No, not yesterday's major economic program. The one before that. Don't worry, he'll have a new one next week.)
But while everyone waits tonight for the Ayers Showdown, here's what we'll be looking for: a series of quick jabs about 75 minutes in. Both times Barry has waited until late in the game to start needling McCain, and both times McCain has damn near lost it. But not quite. If the American people don't see McCain's eyes bug out and his ears steam — the Full Avery — he might as well kiss this election goodbye.
Our liveblog/open thread/once-in-a-lifetime-ppv-spectacular begins at 8:45 p.m. Eastern.
Add a Comment
Please
log in
to post a comment