That's Some Catch, That Catch-22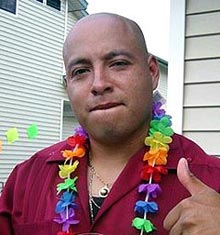 Speaking of war heroes, let's take a moment to honor the late Sgt. Rafael Peralta, a Marine from our corner of the country who smothered a grenade with his body in Fallujah, saving the lives of his fellow troops.
President Bush himself honored Sgt. Peralta in a 2005 Memorial Day speech, saying he "understood that America faces dangerous enemies, and he knew the sacrifices required to defeat them."
One sacrifice he didn't know: Four years after his death, Sgt. Peralta would be denied the Medal of Honor because he was crazy.
For about, let's say, ten seconds.
It didn't start that way. Sgt. Peralta's actions were commended by his fellow Marines. The Marine Corps and Navy agreed, nominating him posthumously for their highest honor. But a special review panel appointed by Defense Secretary Robert Gates "said a medical specialist concluded that Peralta, who had been shot in the head before witnesses say he reached for the grenade, was too incapacitated to have consciously carried out that act," according to a local paper.
Shot in the head by a fellow Marine, we should add. Ricochet.
"I think it's all because of the friendly fire part of it," says a lawyer for Sgt. Peralta's family.
Sgt. Peralta, who is buried about ten miles from where we sit, was instead awarded the Navy Cross on September 18. He was born in Mexico City, emigrated with his family to the United States at age 15, enlisted in the Corps the day he received his green card, and became a U.S. citizen while serving. "Be proud of me, bro," he wrote his younger brother before the Fallujah assault, "and be proud of being an American."
Those last details come courtesy of Ollie North, who exploited Sgt. Peralta's bravery in a 2004 column bashing the media for ignoring it. "The next time you log onto the Internet," said Ollie, "do a Google search on Rafael Peralta." We did. Of the 700 news articles covering the latest development, North's name cannot be found among them.
Add a Comment
Please
log in
to post a comment