Gloves Off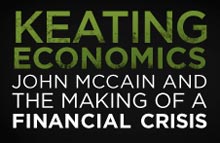 What's that you say about Barry not knowing how to attack?
John McCain was accused of improperly aiding his political patron, Charles Keating, chairman of the Lincoln Savings and Loan Association. The bipartisan Senate Ethics Committee launched investigations and formally reprimanded Senator McCain for his role in the scandal — the first such Senator to receive a major party nomination for president.
The Obama campaign's new "Keating Economics" website launches today with a splashy movie set to premiere at noon Eastern — a documentary that promises to remind everyone what the fuss was about back in 1991.
And while the site clearly has been in preparation for some time, "keatingeconomics.com" was only registered on September 25 — the Thursday McCain parachuted into Washington to fuck up the bailout negotiations.
Sure you don't want the super-size popcorn?
[Stinquer Salute to Signal to Noise, who spotted the preview at TPM.]
Obama to hit McCain on Keating Five [Politico]
Add a Comment
Please
log in
to post a comment