Yoda Pez Winks for No One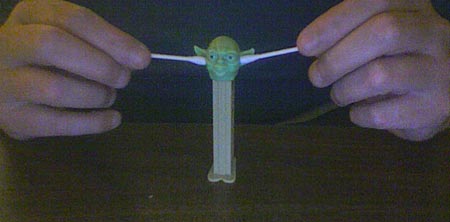 We try not to disturb Yoda Pez except in case of electoral emergency, so you can imagine he was a little upset when we asked him to remove the Q-tips from his ears for some post-debate chitchat.
"Hear you, I can't," he said. "Listen, I will not."
We wanted to tell him the good news — Plugz won the debate, Barry has regained his commanding lead in the state polls — but Yoda Pez took a dive for the cotton swabs three minutes into the veepfest, and there they remain.
So we tried winking at him in that friendly way Sarah taught us Thursday night — I gotcha covered, you betcha — and that's when he started jumping all over our keyboard like some digitally recreated freak.
Up popped an ad featuring Wright, Ayers and Rezko.
We shrugged. This is news?
More jumping. This time a new ad showed up, saying Barry's a baby killer.
We shook our heads. After Kindie Porn, we've come to expect this.
Furiously, Yoda Pez jumped around yet again, revealing news that McCain is spending his entire budget on attack ads, and October's just getting started.
Unable to take any more, we pulled the swabs from his ears.
"I'm not afraid!" we shouted, mustering our callow courage.
"You will be," said Yoda Pez. "You will be."
Add a Comment
Please
log in
to post a comment