Margaret Thatcher, Fag Hag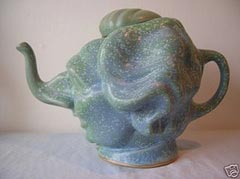 Andrew Sullivan gets a stiffy for a girl:
I'm a fan of Thatcher; I revere her; she saved my native country; she didn't just break a glass ceiling, she pulverized it into a million little pieces.
We would have thought it's the country she pulverized, but we were too busy dreading Saint Ronnie those years to notice.
To be fair, Sully has done yeoman work this election, getting kicked out of the best clubs because he supports Barry. And he mentions the forthright Iron Maiden Lady in welcome contrast to the obfuscating Talibunny.
But make no mistake: Once the election's settled, we're going to beat him up and make him cry.
Dartington Margaret Thatcher [Teapots Teapots Teapots]
Add a Comment
Please
log in
to post a comment