Iamb What Iamb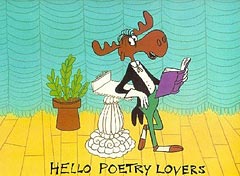 [via BRB]
In a desperate attempt to parse the unparsable and deconstruct the unconstructed, some of the greatest minds of our generation the jackanapes at Slate have been driving themselves to all sorts of exegetic madness in the face of the onslaught on the English language that the vocalizations of Winky The Clown represent.
Some decided to try to diagram some utterances, while others, more cogently, realized that the elitist grammar of the complete sentence was yet one more tyrannical imposition on a "straight talk" form that was, for all intents and purposes, a type of poetry, the blankest of blank verses.
While these examples are all drawn verbatim from the interviews with Big Charlie and Kate-Dawg, Thursday night's debate provides plenty of fresh fodder for the terrible freshman poet lurking in all of us. I'll share my initial foray after the jump; contribute your own quatrains, haiku, senryū, sonnets, and yawps in the comments!
What John McCain Meant
John McCain
in referring to the fundamentals
of our economy
being strong,
he was talking to
and he was talking about
the American workforce.
And the American workforce
is the greatest in this world,
with the
ingenuity
and the
work ethic
that is just entrenched
in our
workforce.
That's a positive.
That's encouragement.
And that's what John McCain meant.
(Inaudible)
Now, what I've done
as a governor and
as a mayor is
(inaudible)
I've had that track record of reform.
Add a Comment
Please
log in
to post a comment