Sarah Palin is a Pussy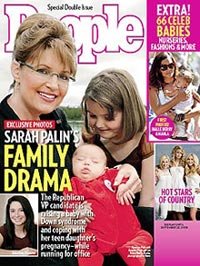 "For the complete story on Sarah Palin – including how her family deals with Trig's condition, and how they are embracing Bristol's pregnancy – pick up this week's PEOPLE, on newsstands Friday."
Well, that's nice, and it'll certainly make our next visit to Ralphs more entertaining while we suffer that idiot writing a check ahead of us in line.
And for now, that's all we'll hear from Sarah Palin in her own words.
It's been a week, and the Republican nomineee for Vice President of the United States has not spoken in an unscripted or uncontrolled setting. She hasn't held a press conference. She hasn't chatted with the boys in the back of the Straight Talk Express. Heck, she hasn't even shown up in the warm confines of a Fox News studio.
What's she afraid of? Is the future understudy leader of the free world too scared to talk to even cuddly Chris Wallace? (Stay tuned on that.)
To be fair, she'll be busy — she has thirty fundraisers scheduled over the next sixty days. (Not for the campaign, which is sucking at the public teat this fall, but the RNC and state parties.) But if Barry can face down Papa Bear, surely she can drop by Chris Matthews to show us who has the hardballs.
Unless she's a chickenshit. Are you a chickenshit, Sarah Palin? Because we just said you are — all talk, no stick. And we think you're too chickenshit to prove us wrong.
When Will Palin Meet the Press? [Newsweek]
Add a Comment
Please
log in
to post a comment