The Charlie Browniest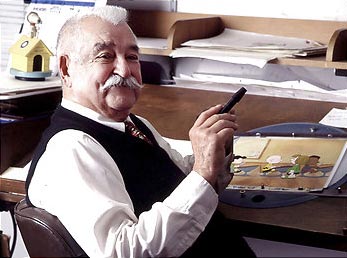 Chuck Jones gets all the attention — for Bugs, for Road Runner, for the Grinch — but our unsung childhood hero is Bill Melendez, the animator who brought Peanuts to life.
Things could have gone terribly wrong: the network wanted a laugh track, the network wanted adults to voice the kids, the network wanted anything other than jazz on the soundtrack. But Melendez and Sparky Schulz stuck to their guns, insisting that their way was the only way it would work.
And so they created "A Charlie Brown Christmas" and "It's the Great Pumpkin, Charlie Brown", and we slept in Charlie Brown sheets and pillowcases for years. Robert Smigel — Triumph, all those SNL shorts — calls the Christmas special "the greatest half-hour American TV has ever produced."
Bill Melendez died Tuesday, at age 91.
Add a Comment
Please
log in
to post a comment