Big Soy Rejects Claim that Tofu Harshes Your Jizz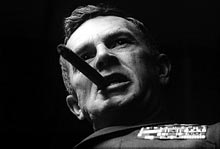 In what is either the greatest threat to Western civilization since fluoridation, or the solution to a Malthusian future where riots break out over suspiciously tasty green crackers, researchers have discovered a link between soy consumption and reduced male fertility.
And the soy industry is not taking it laying down.
Nigel Duffin, who runs the Soya Protein Association when he's not moonlighting as lead guitar for Spinal Tap, claims the Harvard report fails to tell the whole load-blowing story:
Several studies have been conducted into soya and fertility, including a study undertaken in 2001, where healthy young men where supplemented with soya during a two-month period. Ejaculated volume, sperm concentration, count and motility of sperm cells were not affected. No soya study with humans has ever shown a negative relationship between soya and sperm mobility and quality.
Duffin goes on to point out that since Asians fuck like bunnies, the Harvard researchers must have overlooked more obvious causes. But the more pressing question is this: What are the protocols for those studies? And when will Whole Foods start stocking Soy Porn?
Add a Comment
Please
log in
to post a comment