My Bad, Saith the Lord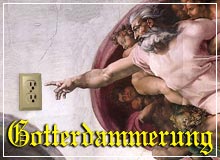 [Editor's note: We introduce a new weekly feature this morning because the old one was boring us to tears. Although we had a great line prepared about Karl Rove as Celebrity Chum for Shark Week.]
A 79-year-old Oklahoma City man was killed Thursday when he was crushed in the front seat of his car.
By a church steeple.
The man was watching a crane lift the steeple onto the new Grace Assembly of God when the crane's arm buckled. His wife, sitting in the back seat, was unharmed. Both were longtime members.
Despite the evidence before them, church leaders remain unfazed.
"We're looking at it from the perspective that God is a God of grace. God is a God of mercy. God is a God of love," said Rev. Joe Hancock.
Add a Comment
Please
log in
to post a comment