Lady Sings the Blues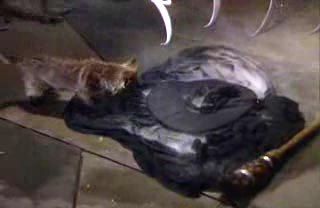 Programming apologizes for this week's interruption of Bound for Glory by The Blair Witch Project. We're taking steps to ensure it doesn't happen again.
Fucking mockingbirds. Well, now that we're awake, let's liveblog the mofo…
11:44 a.m.: Cut back to Donna Brazile, CNN. Make us happy.
11:46 a.m.: Candy Crowley: "She doesn't want to be looked at as the skunk in the party." Whoops!
11:47 a.m.: This is a major production for a concession speech. There must be a Firesign Theatre album that got there first.
11:48 a.m.: Candy: Swampsow relied on an apathy campaign, not expecting all those new voter registrations. It's too early to start counting all the Republican strategies she deployed.
11:50 a.m: Candy: "Campaigns aren't lost on one thing, they're lost on everything." This after bringing up the Iraq vote, which sent many folks looking elsewhere. I think the law of unintended consequences applies.
11:52 a.m.: Drug ads! Drink!
11:55 a.m.: Jesus fucking christ — they've got a cam on her Bronco Suburban, probably going to run a helicopter chase. Well, she is a murder suspect.
Noon: CNN labels it THE CLINTON EXIT. Pursued by a bear, we would hope.
12:02: Delay getting started; apparently the Surrender Monkeys want to be paid in advance.
12:03: Kool-aid now being distributed to the crowd for the exciting mass-suicide finale.
12:07: SongWatch: "We Are Family".
12:09: Clintons still haven't left home. Jaws of Life called in to pry Swampsow from the banister.
12:12: Carl Bernstein basks in his last moment of relevance before Woodward throws him back under the rock.
12:18: Candy: Peeks at script, says Swampsow "will give her 'unequivocal' support to Barack Obama." We can only hope CNN sets up the Audience Crush-o-Meter for that one.
12:22: Speech is being given, sooner or later, at the National [Building] Museum. Is that the joint where Colbert's portrait hangs by the toilet? Alas, no — that's the National Portrait Gallery.
12:23: More drug ads! Drink! Oh, it's a Cialis ad — stroke!
12:26: Tires found in garage, Swampsow's Suburban taken off the blocks, and the Political Career Cortege begins its slow procession towards the funeral.
12:35: Chicago Bureau notes a truly sad passing: Jim McKay, 1921-2008. We were watching the Munich Olympics when he delivered the news. Moments like that stick.
12:38: SWAMPSOW IS IN THE BUILDING. SCARVES ARE BEING PREPARED TO TOSS TO THE AUDIENCE.
12:40: Did we say Firesign Theatre? We meant Rocky Horror. We want to see running mascara, and we want to throw things at the screen.
12:44: We haven't yet been informed whether this is a Cher farewell, to be followed by months of concession speeches across the country.
12:46: The End Begins…
12:48: So, is she gonna buy the kid a new Xbox, or isn't she?
12:49: For members participating in the Website Plug Pool, the three-minute slot has lost.
12:51: "Eighteen million of you…" Game over. She can't help poking a stick in the wound.
12:52: Bill to Hillary, 9 a.m.: "Why not just use the stump speech, Hon? Nobody gives a shit."
12:55: Wait.. Wait… SHE DOES IT! BOOOOOOOOO!!!!
12:56: BOOOOOOOOO!!! REAP THE WHIRLWIND!!!
12:57: "The Democratic Party is a family." So is the Sopranos.
1:00: Bill to Hillary: "No, really, Hon. Just stick the concession here. The rest you can do in your sleep."
1:01: "Yes. We. Can." Why does hearing that from her make my stomach turn?
1:03: Okay, now we're into fresh material. And it's getting harder to hear the booing.
1:04: "Could a woman really serve as commander-in-chief?" Yes. Margaret Thatcher.
1:07: It really is last summer's speech — she thought she'd be running against a white male.
1:09: "If we can blast fifty women into space…" I am not going there. Mommy would kill me.
1:11: After laying into the Glass Ceiling for seven minutes, she says Never Mind. Right.
1:15: "I'm going to keep doing what I was doing long before the cameras showed up." The Rose Law Firm is hiring?
1:16: It's over. All that remains is for Lanny Davis to deny everything.
Add a Comment
Please
log in
to post a comment