Murder on the American Express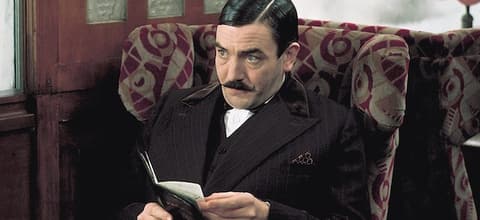 There was a moment Saturday morning when we suddenly felt what we wanted. And then, just as suddenly, it was gone.
The Senate trial of Donald Trump had been proceeding as expected: statements., videos, everything on track for the part that mattered, getting the traitors on the record for their treason. Nobody expected him to be convicted. We just wanted a head count.
That's all we thought we wanted, anyway. Until the possibility of much more turned up.
It was the vote to call witnesses — not just a video compilation, but living, breathing, people, there, now, explaining what happened.
The trial could go on for months like that, it was feared. Yes. That's what we wanted. Every day — heck, put it on a schedule so the Senate can get other work done — every other day, every week, more witnesses, more details, more news, more conversation. Let's just let this settle in, shall we? Let's not put it behind us and move on to other things. Let's keep it fresh, top-of-mind.
No hurry. We're safe. Uncle Joe has The Button now.
The moment didn't last, but it lasted long enough for us to get a good feel for it. It wasn't just what Trump did or didn't do, it was what everyone around him did or didn't do, what the Republicans cheering on the insurrectionists pre-assault did or didn't do, what the Capitol Police did or didn't do, the whole story of planning to challenge the election before the election even happened.
All of it. Everyone involved. Stars and bit players. Accountability for all!
We wanted a Commission, was what we wanted. We wanted a Special Select Congressional Committee known to history by the name of its chair. We wanted public hearings, under oath, everything on the record, names named, actions recounted.
We wanted it all.
And then it was all gone. Witnesses would not be called. The final vote, and its inevitable outcome, would proceed.
Problem is, we still want it. All of it.
We want it because, well, we're dealing with Murder on the American Express here: Everyone's guilty. Find us an elected Republican who didn't help enable this. (Okay, Mitt. Find another.) Find us the Republican citizens and officials who didn't assent to this. (Okay, Raffensperger. Look harder.)
There are millions of traitors in our midst. Millions and millions and millions. Millions of people who would sooner overthrow democracy itself than lose the advantages they enjoy. We can't exile all of them. We can't build enough FEMA camps to hold them. We have to live with them, live among them, knowing that, given the opportunity, they'd rather see a dictator run this country — to their benefit — than deal with what truly is the worst system of government imaginable, except for all the others.
We can't do anything about them. But we can recognize them, see them for who they are. A Commission would help. Or a Special Committee. Or a Traitor of the Week series on Disney+. Something.
Short of that, short of the fantasies we entertained for that brief, shining moment Saturday when the sun broke through the clouds, we can recognize shit for what it is: The 50 Democrats in the Senate represent 41 million more Americans than the 50 Republicans. The 57 votes for conviction represent more than two-thirds of Americans.
The problem with democracy isn't democracy. The problem is we aren't practicing it.
Add a Comment
Please
log in
to post a comment