Supermarket Sweep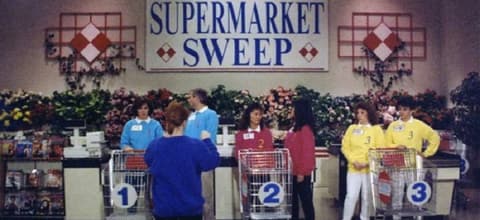 We had planned to write something wry about March Madness being canceled this year, something to replace our annual Stinque Braquet, something fun — something unlikely to be overtaken by events.
Until we went shopping Saturday.
We shop every Saturday, stocking up for the week. The neighborhood Whole Foods was slightly odd, an empty shelf or two, employees wearing blue gloves. Out of our coffee beans this week, but that's not unusual.
And then on to Safeway.
Which was thoroughly ransacked.
Never mind the cleansers and TP, which were gone last week. Canned food, dry food, frozen food — especially pizzas — stripped bare. Last week we had shopped, as advised, for a potential two-week quarantine, so our situation wasn't dire. But it was a stunning sight.
Between the two Saturdays, people woke up. Shit got real.
Shit's been real elsewhere, particularly Italy. We had read a series of tweets from a doctor there, how they had cleared the hospital of unnecessary patients, how it was eerily empty one night, and a hellscape days later. That was a week ago, maybe two, time makes no sense right now. And what we're reading now from Italy sounds like battlefield triage, only so many intubation supplies on hand, so many more patients who need them. Decisions must be made.
That's what happens when you don't flatten the curve in time. That's the point of the chart: We can't handle everybody getting sick at once. We have a chance of dealing with it if we spread the infections over time.
How much time?
Months.
We've known this has been coming, we've known it for months, those of us who have been paying attention, and yet what has been coming keeps growing in scale, a logarithmic scale in parallel with the infection rate. It was mere weeks ago that partially empty container ships started showing up at Los Angeles docks, amid warnings that global trade might get disrupted for awhile, oh dear. It was just last Saturday that we were laying in for a potential two-week quarantine, should the virus find us.
It was just days ago that "abundance of caution" threatened to become a cliché.
And then the bottom fell out.
Thanks, Mr. President!
That's what turned it, the Address to the Nation Wednesday night, immediately followed by Corrections to the Address, followed the next day by the largest Dow drop since the first Black Whatever of the modern era more than thirty years ago.
That'll get your attention, a leader who is fucking clueless in prime time. We really are our own with this one. To the Safeway!
We honestly don't know what the next week is gonna bring, never mind the next month, never mind the next season. All we know is that shit just got real for everybody, everything's shutting down, and while we may yet flatten the curve, we have yet to see the bottom of this. We have yet to grasp the consequences. Not just millions infected, not just lives taken, but lives damaged, long-term respiratory effects, incomes lost, families broken.
This would have been tough for a functioning government with a superior healthcare system and a just economy. Unfortunately, we have none of these. But we do have a lot of people doing their best in a very bad situation. We hope to god that's enough.
And we wouldn't mind some frozen pizza.