Additional Cybertruck Safety Features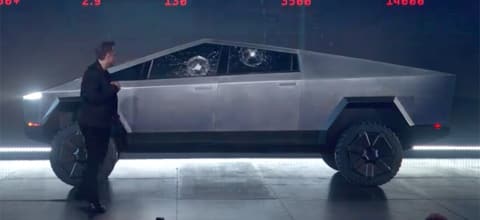 "[The Cybertruck] doesn't have a brake pedal. Why? We didn't have to do that. It doesn't need one."
–Elon Musk
You'll feel no pain when your head smashes into the shatterproof windshield.
Framed notarized certificate and titanium wallet card declaring your dick isn't that small.
The optional Westworld android to cheat the diamond lane during your commute definitely won't kill you.
Free courtesy liability coverage that indemnifies the manufacturer.
The slight unpleasantness of your first transforming experience will be offset by the comfort of knowing your consciousness is now an Autobot forever.
Padded cupholders.
You don't need seatbelts when you're released into the wormhole to Vega.
You'll be too blissed out by the 5.1 soundsystem to care about the schoolchildren you just mowed down.
You'll emerge from the fiery wreckage as Dr. Manhattan.
Software never fails!
Add a Comment
Please
log in
to post a comment