Nobody Knows Anything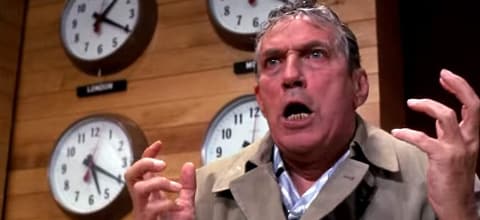 Back when we were in journalism school, back when it was still a career you could expect to exist when you retired — hell, back when you could expect the world to outlive you — the most important class we took was libel law.
Or, as we called it: How to keep your publisher out of trouble. Those deep pockets they're coming after aren't yours, man.
The benchmark was 1964's Times v. Sullivan, interesting in itself for its glimpse into the civil-rights era, but operative for the profession in what libel ultimately amounts to: Not just getting facts wrong, but "reckless disregard of their truth or falsity".
Reckless Disregard has been the bumper sticker ever since. It's a perfectly turned expression for the purpose, commanding a good-faith effort to get shit right. And, if you take it to heart — as we did — it entails not just factual accuracy, but representing the story, the whole story, or at least your best understanding of it. That means getting at the reality of the story you're telling, not the "both sides" of an issue.
Yeah, it can be Rashomon out there sometimes, but that's just the job.
Journalism can be practical epistemology that way, how you know what you know as a reporter, how you can say what is the case, how you can't say other things you might know because you don't (yet) have the facts to support them, what counts as fact, what counts as truth… and all on deadline, six stories a week. It takes work to get shit right, at least if you're conscientious about it. And why wouldn't you be?
Yeah, we know. Don't answer that. Silly question. We're so adorable!
But that's the case with us critters: We aren't conscientious about getting shit right, especially if it involves something dear to us. We'll share that story about imminent koala extinction, even if the source is suspect. We'll share that political poll with awful methodology because we like the results. We'll crack a line about Trump's latest outlandish lie, even if it turns out, this one time, there may be an excuse for it.
We'll do that because getting shit right is exhausting.
"Many Americans say they have a hard time figuring out if information is true", reported the AP in another story making the rounds. Yeah, no shit. We're all epistemologists now. Fox News we can dismiss out of hand, but we can't trust name-brand mainstream news to represent reality either in their both-sides madness, and how many among us know that websites with dull names like Business Insider and The Hill are actually pandering clickbait factories?
That's the insidiousness of it. We think we're safe if we ignore Fox and Breitbart, we know national Republicans lie as they breathe, but there's no safe harbor from pandering, from spin, from misleading fairness, from incomplete pictures, from reckless disregard. The only conscientious sources of news for a generation now have been late-night comedians.
"Nobody knows anything", William Goldman famously wrote about the movie industry, a line that captures the nature of epistemology as well as Plato. We don't know who to trust, whose stories to trust. We know there are still conscientious journalists out there, but we don't know which ones, or where they're at, and even if they're at the New York Times we have no reason to trust the New York Times institutionally, and plenty of reasons not to.
Walter's gone, long gone. Network, the prophetic satire, came out a year before we even set foot in J-school. We're on our own in the world, in reality, and we have been for a very long time. Fake news is a problem, deepfakes are going to be, but let's not act like that's the extent of it, or even that it's new. If Americans as a whole have a problem separating fact from fiction, it's because American media as a whole has a reckless disregard for the difference.
Add a Comment
Please
log in
to post a comment