Turning the Car Around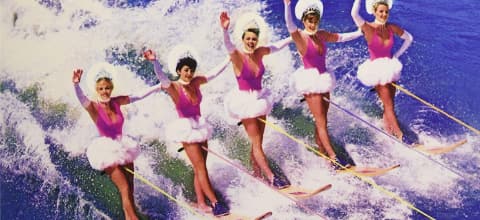 We're arguing again.
We're arguing about what to do. We're arguing about how to do it. If we don't do it this way, or that, we're doing it wrong. We're fucked. If we don't do it this way (or that), it's just gonna happen again. Like it always does.
We're arguing again. We're arguing with ourselves.
America is arguing.
Which, y'know, is kinda the point, the point of being Americans, the point of having a democracy where we can argue with each other to our heart's content. Fine. Put it to a vote. Let's see who wins.
We argue like a family on vacation. We squabble. We're noisy. We're intense. We're bothersome. We're the kids in the back seat. Dad's gonna turn the car around if we don't shut the fuck up back there.
That happened to us once. Dad turned the car around. We went back home. Have you ever broke Dad? Not fun.
So, what are we arguing about this time? Those of us who give a shit are arguing what to do about The Usurper, the guy who didn't win an election but took power anyway. (Long story. You had to be there.) Now that we've caught him in the act of betraying us — not like we haven't before, but that's another long story — we're arguing about how best to get rid of him, and what will happen if we don't do it the right way, or at least try.
Because we won't really get rid of him. Not gonna happen. We all know that going in.
What we're arguing is whether to nail Capone on tax evasion — easy case, caught him red-handed — or whether to roll up some murder charges with it, which after all is why we want to nail Capone in the first place. If we focus on tax evasion, if we take the easy case and let the rest slip, well, that's not really justice, is it?
And you know what? It's not. But at least it'll get him off the streets, where he can murder no more. There's that. If it works. Which it might not, but that's yet another long story. It's all long stories these days.
We're inclined to the argument for justice, for making the case as completely as possible, for getting everything down — for witnessing the injustice — because, given all those long stories, that may be all we can do. Tax evasion may be an airtight case, but the jury is bought, the judge has sold out, and honesty, we've seen better prosecutors.
You might be more familiar with that version of things. It started with a white Bronco.
We're inclined to the argument for justice. But we're not going to get it through impeachment.
What we really need is a Truth and Reconciliation Commission.
And in saying that, in knowing that, you know how far we are away from ever having that.
All we can do, given all those long stories, is what we can, with what we have, and sadly, it ain't much. It's actually very little.
Democracy wasn't supposed to be that way. Our democracy wasn't supposed to be that way. It was a fine idea, well-expressed — governments derive power from the consent of the governed — and it was well-elaborated too, given what vicious critters we are. But it wasn't airtight. We weren't endowed by our Creator with perfection — far from it — and over a couple centuries we've found all the holes in the system, all the flaws, all the ways around the idea that gave our democracy life in the first place.
We've undermined ourselves.
So yeah, it would be nice if we could find some justice in this mess, to do it right, to do it really right, to settle the matter. God, that would be nice. But there aren't enough of us, enough of us who want that, not just a democratic majority of us, but an overwhelming majority, a majority that can't be excluded or gerrymandered or carved in unequal sizes with equal weights.
There aren't enough of us because there are too many of them. Too many who don't want justice, never mind truth, never mind reality itself.
We're not arguing with them. They're not worth arguing with.
And really, we're not arguing with anyone at this point. Just get the asshole out of there. Get him off the streets. Fuck justice, we need to stop the harm.
Get him on tax evasion if that's what works, if that's all you can do, if you can even do that. Because yeah, we want justice, we want a Truth and Reconciliation Commission, we want Nuremberg, but look what it took to get either of those, and look at us, look at America, and tell us we're getting anything like that anytime soon.
Add a Comment
Please
log in
to post a comment