The Bare Minimum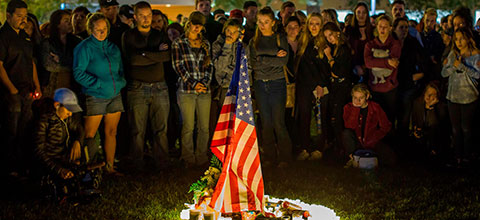 Twelve people died in a mass shooting Wednesday night.
Nobody noticed.
Okay, that's unfair. The other people in the bar certainly noticed. Friends and family of the victims certainly noticed. Everyone around Los Angeles certainly noticed, which is how we noticed Thursday morning, the occasional LA-based tweet amongst a slew of other tweets not noticing.
The slaughter of twelve people in a bar Wednesday night was only a local story.
We've been wondering for awhile what the number, the minimum number, of deaths is required to make a mass shooting a national story, the kind everyone talks about, can't help talking about.
We started wondering last year, when three or four people were shot and killed one evening in our Denver area, and nobody noticed. Those are common now — between Pittsburgh and Thousand Oaks, there were eleven mass shootings, four or more victims each, and we didn't notice those. We figured it takes double-digit fatalities to get noticed these days.
But Thousand Oaks was twelve, one more than Pittsburgh. One of the victims had escaped the Las Vegas massacre. That was in the news, Thousand Oaks was in the news, it's not like Thousand Oaks wasn't in the news. But the details, they came and went. You may have heard some. Then again, you may have missed a few. Thousand Oaks hasn't been commanding national attention.
You know what has instead. Tuesday we had a significant national election. Wednesday we had a live presidential meltdown, followed by an abrupt firing, followed by an abrupt appointment. That's what everyone was noticing Thursday morning instead of the slaughter of twelve people in Thousand Oaks, and that's what they're still noticing now, as well as Arizona and Florida and fires again consuming California.
It's just been one of those weeks where there's too much to notice, and the mass murder of a dozen people that doesn't involve race or religion or children isn't going to get noticed, because we know that story, the story of thoughts and prayers and nothing getting done. These other stories, the ones people are noticing, we don't know how those will turn out. Those stories have consequences. Mass shootings don't. Even if they involve a dozen victims.
So America has now broken double-digits. It's now possible to murder a dozen people in a bar and not really get noticed. Which leads us to wonder — again — what's the number now? What's the bare minimum of deaths required to command national attention, whatever else is happening? What number would have broken through all the other news Thursday morning? What number of deaths would have put all other conversation on hold?
We're going with twenty. Anything less is just too depressingly familiar.
Add a Comment
Please
log in
to post a comment