Making America Safe for Democracy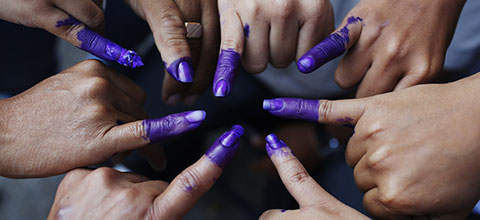 It must have been during one of those invasions that America is so fond of that we first started hearing about it. Sure, we can rain hell and topple a government, but what next? A country needs more than a dictated instruction manual — it needs people to run the joint, and citizens to fill their roles. A nation needs a civil society.
You know, like ours.
That was the point: A constitution is just a piece of paper, as are laws. America is Americans, and we show the world how it's done. We've had more than two centuries of practice, after all. We're not just a democracy, we live by democratic norms.
At least, we used to. Or thought we did.
We were right about the idea: Self-government doesn't run by itself. The veneer of democracy is not the substance. We laugh at despots claiming 98 percent of an election, because we know the whole thing's a sham, rotten to the core. We applaud the sight of voters — elsewhere — exercising their franchise, holding up their purple fingers, claiming their stake in the future of their nation.
We want to believe that's how it works. We really want to believe that's how it works here.
David Frum — yes, we know, but these are the times we live in — tweeted a photo this week, one of his lines tagged on a board. It's a good line, a very good line, something close to what we've been saying a lot lately:
"If conservatives realize they cannot win democratically, they will not abandon conservatism, they will abandon democracy."
And here we are.
To rehearse the litany: After sweeping state governments in 2010, Republicans have gerrymandered Congressional districts so precisely that Democrats will need to win by 10 points nationwide to take the House. Leaving nothing to chance, voters who might disagree have been systematically excluded from their rights, via unnecessary identification laws, unnecessary purging, and to put a cherry on it, unnecessary shutdowns of voting times and locations.
That's not how a civil society does it.
But even the previous status quo has deep structural issues: Twice in sixteen years, a President has achieved office without the support of a majority of voters. And half the Senate represents only 16.2 percent of the population.
That's not democracy. That's a con. America doesn't believe in its own self-determination. We only pretend we do, to keep up appearances. Just like dictators!
It's easy to imagine how an actual democracy would look on these shores: All it would take is people believing in it, and taking collective action to exercise that belief. We could make voting the sacred right we pretend it is just like that — if we wanted to. We could order up a couple of amendments, abolishing the Electoral College and restructuring the Senate, in a snap — if we cared. Heck, let's also add a couple of states, the District of Columbia and Puerto Rico, because it's the right thing to do, everybody knows it is, and doing the right thing is what America is all about.
Unless, of course, it's not.
A majority of Americans would love to do the right thing. You see it in the polls, and in the votes themselves. But a majority of white Americans would prefer we didn't — you see that in the polls and votes, too. There's a reason for that — an historical reason, an ugly reason — and the sense you get from it, reinforced by the news day after day, is that the only reason white folks pretended to believe in democracy in the first place was that they got the better of it.
Soon as their grip started slipping, whites reverted to form and have been reviving Jim Crow wherever they can. Because when we talk about "voter suppression", that's what we're talking about: Depriving the rights of citizens whose skin is darker than toilet paper.
Luckily — barely — America has a chance to redeem itself, if only a little, in nine weeks. Despite all the carefully crafted obstacles, there's a chance that the party that doesn't consist of racist traitors will take over the House, and start practicing some of those democratic norms we've heard tell about. It's by no means certain — that's the frightening part — and it won't begin to solve all our problems. But it'll be a start, and it's all we got.
Because if it doesn't happen, we'll have no choice but to declare America's grand Experiment in Democracy an utter failure, killed by its own citizens who couldn't stand the thought of it actually working.
Add a Comment
Please
log in
to post a comment