This Is Who We Are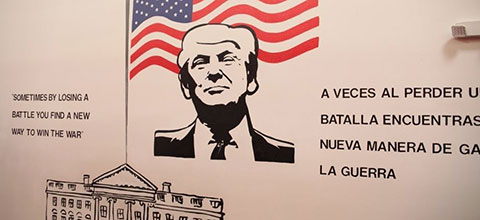 We were born in a 49-state America, which is kinda cool, although we didn't really think about it until recently. You'd think there'd be some notice of 49-star babies, some passing human-interest piece on a slow news day, something exploring our sliver of a Unique Perspective, but that's what you get when you're wedged between Boomers and GenX. You get ignored.
Our perspective, as it happens, is that of growing up in America during the Sixties and Seventies, of JFK and RFK and MLK, of Vietnam and Nixon, of gas shortages and pollution. When nostalgia became pop culture, it was for happy days we had never known. Except in reruns.
And when America's truths became known, we watched everyone run away from them as fast as they could.
Vietnam was a Bad War. We were the Bad Guys. This is something you can accept, growing up with it. You can also accept that the white kids on college deferments were sheer assholes to the poor schmucks who couldn't buy their way out of it. We were too young to have a stake in Our Exceptional Nation's Pride, but we were there for The Reckoning, which lasted until a hockey victory gave rise to chants of "USA! USA!" that continue to this day. That wasn't patriotism, we could have told you, that was desperation. Which also has lasted to this day.
That was 1980. We were in college. A couple years before, there were protests on campus, students wearing sheets of paper over their faces. They were Iranian. They were protesting the Shah. The paper was to conceal their identities from Savak, the Shah's secret police.
America had put the Shah in power in 1953. The CIA had helped create Savak. We, as a nation, were complicit in the oppression the students were protesting. We did it for oil.
And then the Shah was overthrown, diplomatic hostages were taken, Ted Koppel made his bones whipping the country into a nightly frenzy, USA-USA, and Ronald Reagan changed the subject.
It can be argued that Reagan was elected because Americans — well, white Americans — grew tired of hearing what assholes we were. We had something of a brief Truth & Reconciliation moment in the Seventies, but that hadn't gone well. J. Edgar Hoover's lifetime of misdeeds had been revealed, Frank Church's Senate Committee had exposed uncomfortable truths about CIA meddling in other nations. We, as a nation, had caused a lot of grief. Also, deaths.
We caused a lot of grief and death in the Eighties, too. In the midst of all the sadness and slaughter, Peggy Noonan put some words in her candidate's mouth, poetic words, inspirational words, words that would help us ignore the things we had done and were doing as a nation, words that would help us turn away from truth:
America was a "shining city on a hill".
It wasn't true then, or now. It wasn't true when JFK dropped the same John Winthrop line in 1960, a year after our 49-state birth, not with Jim Crow still the law of a substantial part of the land. It wasn't true with Nixon's dog-whistling Southern Strategy, it wasn't true with Racism by Other Means being waged through the War on Crime and War on Drugs.
And it certainly isn't true when we watch our children being slaughtered by weapons of mass destruction, and do nothing about it.
America is a shithole country. It's been a shithole country since long before we were born. If you haven't noticed, congratulations! You're white. And male. Blessed be the fruit.
There's a line that's been going around the past week, a line of shock and disbelief, a line you hear accompanying reports of what we do to families — especially children — seeking asylum at our border:
"This is not who we are."
This is certainly not who we believed we were, those of us who have enjoyed the luxury of living their lives in complete ignorance of what we do, what we've done, what we've always done, to people who are not us, not white, not male, not wealthy. We've turned our heads, looked away, preferred the sweet music to the discordant reality, preferred to yearn for a past that never was instead of working toward a future that can be better.
This is who we are. This is what we've done. We reward the people who do it for us. And then we act surprised when they do it.
Add a Comment
Please
log in
to post a comment