Aggressive Ignorance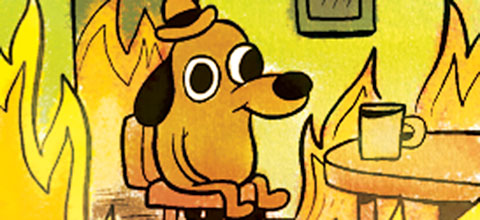 It was at some point during the Eighties that we realized America is fucked. We don't recall the occasion, but given the era — the Reagan era — it would have had something to do with Our Fellow Citizens preferring lies to the truth.
Because we were sweet and adorable, this came as a shock. Somehow we had grown up thinking truth was something to be valued, that facts trumped fantasies. Somehow we were under the impression that this was a value we shared with other sentient beings who lived under our flag, that of course everyone was interested in the truth, that of course we all wanted to know the facts at hand.
And then, as we cast our first national vote, Americans elected a charming liar as President, and the wheels started coming off.
It was a few years later that we found an expression for it: "aggressive ignorance". We're fine with ignorance as such — we're all born with it — but while some of us feast upon the world we're born into, many others do everything they can to avoid it. They live a lie, they enjoy living a lie, they insist upon living a lie, even when the truth is made available. They don't want to hear it. They don't want to see it.
And there are enough of of them to take the rest of us down with them. Just look where we are now.
This deliberate avoidance of truth has serious, perhaps catastrophic consequences. Sooner or later, reality bites, and the longer we ignore it, the harder it chomps.
The metaphor we used at the time was that we're stuck on a bus, it's barreling towards a cliff, there's barely time to turn it around, but everyone insists on speeding ahead. Only when the bus is plunging into the ravine will people accept they were wrong, and then it will be too late.
This, we realized some years later, was optimistic. When the bus finally crashes in a giant fireball, half the folks aboard will die still believing it was still safely on the road.
Anyway, we've been living with this thought for thirty years now, and in all that time we've never seen a need to revise it, while we've seen plenty of things to reinforce it. It's not that everybody's fucked, but an electorally significant minority — about a third of us — which, combined with ferocious cynical pandering, denial of voting rights, and a misaligned system of representation, is sufficient to put a manifest idiot in the White House and craven toadies in Congress.
And while with sufficient time the Republic would recover as it always has, there may not be sufficient time this round, because we're fucking up our habitat so quickly that we'll have nothing to leave future generations but pain and resentment.
There was a poll this week reporting that one in five Americans — and half of Republicans — believe the media is "the enemy of the people". Meanwhile, RedState fired a bunch of writers for insufficient fealty. This is how America is going down, and it's not going to be a soft landing.
Add a Comment
Please
log in
to post a comment