Days of Futures Past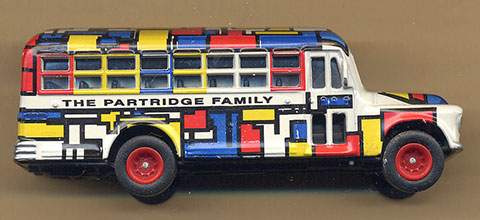 We grew up in a time of great dystopian movies. Beginning with Dr. Strangelove and ending around Brazil, there's a twenty-year run of gloom that perfectly syncs with our formative years. We may joke about still waiting for flying cars, but the future we anticipated was found in the theater, not in cartoons.
The wallpaper of our childhood was Vietnam and Nixon; gas shortages taught us that conditions could turn on a dime. Speaking of which, comic books cost twelve cents when we started buying them; they were a quarter when we stopped paying attention.
And yet we never felt as hopeless as we do today.
We've been thinking recently that as a child born into a 49-state America — and white male at that — we hit the sweet spot of human existence, the best it ever was and will ever get. We got the Moon landing, and the Internet; we got food and shelter; we got pleasant seasons; we didn't get nuked. It may all come crashing down soon, but we're checking out in the next twenty years or so anyway, and you may take away our wheels by then, but you can't deny us our ride. It was a good one.
It's depressing, really. You want to leave the future better than you found it. You want today's kids to enjoy that Jetsons world, and tomorrow's kids to explore that Star Trek universe. You want to plot yourself on a continuum of progress, confident that the arc of the moral universe will indeed bend toward justice, given sufficient time, even if you're not the one arriving at the Promised Land.
You don't want to be doubting whether Man is still alive in the year 2525.
There's a dark theory that we can't find signs of intelligent life in the universe because there isn't any. Not that we're unique — the odds of that would be, well, astronomical — but that any advanced civilization inevitably collapses on itself. Those radio waves may be floating out there, but we've only been sending out our own for a century, and detecting them for far less. If our lights go out soon, that's the briefest amount of time we've been shouting out our window. You had to be there to hear us. Sorry you missed it. Maybe you'll be the universal exception.
The last time we felt like this was sometime in the 1980s, that parched desert of American morality, when Reagan won twice by actual landslides, when we had to face the true nature of the 50-state nation we had grown up in. Americans, Churchill had said, could always be counted upon to do the right thing, once all other options had been exhausted. Our own expression was that we were collectively hellbent on driving the bus off the cliff, and we wouldn't admit our mistake until we were halfway down.
Turns out we were optimistic. The world is melting — now, today — and we're still angling to see who hoards the petrol in the Australian Outback.
But maybe it's just the past year. Maybe it's just the President, his party, a third of Americans, and that 20-point majority of white voters. Maybe it's the Boomers who didn't start the fire but keep throwing gas on it, and the billionaires whose thirst for plunder can never be satisfied. Maybe, despite everything, come this November we can find at least a sliver of hope restored.
Because, honestly, we've had a good run, a real good run, and our only personal stake is in Medicare lasting long enough to ameliorate the sins of our well-timed life. But we'd still like today's kids to reach the twenty-second century in better shape than we reached the twenty-first, and not have their run turn out to be Logan's.
Add a Comment
Please
log in
to post a comment