Seven Takes in Search of an Audience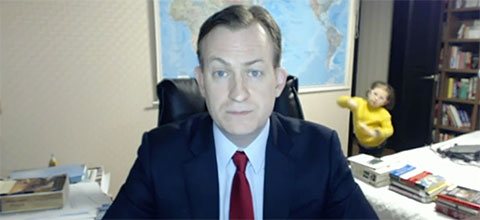 1. Watch this! It's adorable!
2. Did you see how he shoved his daughter out of the way? If a woman did that, she would be accused of child abuse!
3. The desperate nanny is everything that's wrong with patriarchal society.
4. That's not a nanny, that's his wife, and your presumption demonstrates the inherent racism in liberalism.
5. The fact the BBC is interviewing a white man about Asian politics betrays a Western bias in the representation of Eastern issues.
6. The fact you can't enjoy a simple video about a flustered dad is why Trump won.
7. Where are they now? Meet the Nevermind baby and 27 other toddlers who knew fame before they could talk!
The Backlash to That Interrupting-Toddler Video Arrived in Record Time [New York]
Add a Comment
Please
log in
to post a comment